Find the Earthquake Fault by SAR Interferogram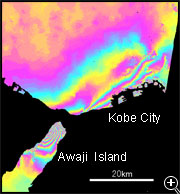 SAR interferogram showing the crustal deformation caused by the South Hyogo Prefecture Earthquake
In the left figure, the crustal deformation that occurred by the South Hyogo Prefecture Earthquake of 1995 is detected by InSAR. Do you see where faults moved in this figure?

In the area of the northwest Awaji Island and Kobe City, where interference fringes are closest, the greatest deformation occurs and the principal fault lies underground.

How to understand the SAR interferogram
---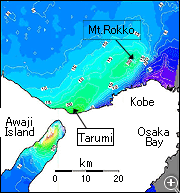 Contour map created from the SAR interferogram that shows the crustal deformation caused by the South Hyogo Prefecture Earthquake, 1995.
Left figure is the contour map created from the above SAR interferogram.

It shows that Nojima Fault appears above the ground in the northwest Awaji Island and leads to the crustal deformation up to tens of centimeters around. And no fault appeared explicitly in Kobe, but the mountain area from Tarumizu to Mount Rokko moved at most 20cm according the underground fault movement.

In this area there are the principal fault below ground, along Kobe urban area of the south Rokko, in the direction from east-northeast to west-southwest. The north side of the fault moved up and right compared with the south side.
---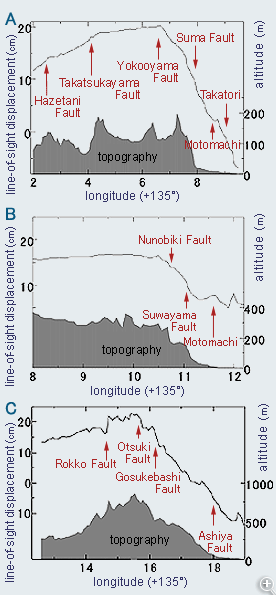 Cross-section of the landscape and LOS displacement caused by the South Hyogo Prefecture Earthquake, 1995
Left Figure A, B and C show the displacement (size of deformation) calculated based on the topography and the SAR interferogram, in cross-section of Mount Rokko in Kobe City along the line from northwest to southeast.

It is obvious that the outline of the cross-section of the landscape is quite similar to that of the displacement.

However, because the displacement is tens of centimeters at an altitude above more than 100 meters, it is only a thousandth of the altitude.

But if similar earthquakes occurred frequently over the past years, it is possible that the repetition of earthquakes formed these landscapes.